Javascript Required
You need Javascript to use this page.
About the British Stamp Organiser
You can
renew your subscription here.
If you have already purchased the organiser you can
download it here
.
What is British Stamp Organiser?
British Stamp Organiser is a professional inventory program that allows you to record your collection of British Stamps and related products. In addition, the program also allows you to browse through over 35,000 images of British stamps, first day covers, presentation packs, PHQ cards, stamp books, and smilers stamp sheets.
It is the most powerful and easy-to-use Philatelic Organiser ever!
With it's easy to use and simple operation anyone can get started using it within minutes.
Own the best-selling British Stamp Organiser program for less than £25.
Have you recently started collecting British stamps? Why not read our
Understanding British Stamps
page.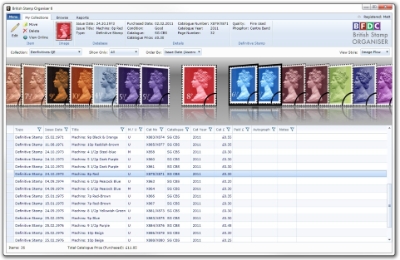 If you already own any of our previous CD versions of Stamp Organiser - all of your collections data can be restored into the new British Stamp Organiser 7. Therefore you will not lose any of your collections data.
Below are the main advantages of using British Stamp Organiser which has been designed to appeal to a wide spectrum of collectors of British stamps.
---
Features
Now works with Windows (32/64 bit - Vista, 7, 8 & 10 ) and Mac (Intel).
Choose from three different theme colours - Blue, Grey and Dark Grey
The friendly user interface makes it so easy to use.


Record your stamps individually or as sets (both types of images are included).
Add different varieties of each stamp (perfs, printers, phosphors etc).
Option to use your own images or one of over 35,000 high quality images included.
Create a 'wish list' for all those items you still wish to purchase.
Multi-Select items to quickly rearrange your collection or add multiple stamps at once.
Is flexible in the amount of information to record for each item - you can add as little, or as much information relating to each item as you wish.
Backup and Restore your collection for peace of mind.
Automatically create backups of your data every time you close the application.


Generate reports and export them to PDF and Word.
Create reports for different collections - or for your complete collection.


Comes complete with details of all the stamp issues from the Penny Black to the present day, plus presentation packs, stamp books, PHQ cards, etc.
Information and images for each of Royal Mail's products: Stamps, Presentation Packs, First Day Covers, Stamp Books, PHQ Cards, Stamp Sheets and more.


Free personal use of any of the British Stamp Organiser's 35,000 (approx.) images included with the program.
All reasonable technical support given free by email only.
NB Support is not given over the phone – if you have a problem you need to email support@stamporganiser.co.uk
---
---
Updates
Each purchase of British Stamp Organiser comes with a FREE year's subscription!
This means that your British Stamp Organiser is up-do-date from the moment of purchase.
It is constantly being updated with all the latest British stamps etc and will remain up-to-date free for a year from the date of purchase.
You can download the latest updates into your organiser by selecting MENU (top left corner) and then selecting 'Check for Browse Updates'.
If you forget to do this the British Stamp Organiser will remind you two weeks after you last checked. If you wish, this feature can be turned off from the options window.
After a year from the purchase date you will be asked whether you wish to subscribe for another year of updates. If you decide not to do this you will still be able to use your British Stamp Organiser and install it on any new computers you own. You fully own your copy of the British Stamp Organiser and that does not change once your subscription ends.
However, if you wish to continue receiving updates of all the latest British stamp issues, you will need to purchase another year's subscription.
Thus, if you only collect stamps with an issue date prior to the date of purchasing your British Stamp Organiser, you should only ever need to update this product if changes to your PC / MAC operating systems make it incompatible.
Click here if you would like to renew your subscription.
---
My Collections Tab
British Stamp Organiser allows you to create as many different collections as you wish.
Record the items that you own, or create a wish list of items which you would like to own.
You are in complete control as to how you wish to organise your collection(s), e.g. keep all your FDCs in one collection, and have another collection for all of your stamps. Or if you prefer create themed collections, or create a collection for each of your albums. The choice is yours.
Record as much information or as little about each item as you require. You can go back later and add as much detail as you like.
You can re-order your collections e.g. order by 'Stamp Issue Date', 'Catalogue Number', etc.
You can view your collection in three different ways, by thumbnails, image flow or text only. You can see examples of these views on this page or the
screenshots page
. This gives you the choice to the view your collection in the way that is most useful to you.
By recording the relevant information you can quickly obtain the full catalogue value and purchase price of your collection - assuming that you have recorded this information in the first instance.
The bar at the top of the window shows details about the currently selected item. You can edit, move, or delete the selected item.

From the 'My Collections' Tab you can edit the items you have previously recorded. Below are examples of the edit window.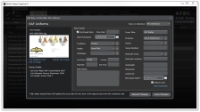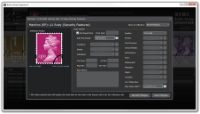 By right clicking the Grid of the 'My Collections' tab you to do the following tasks.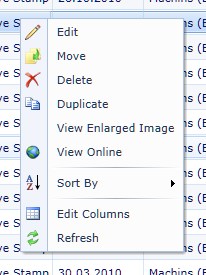 ---
Browse Tab
Browse our entire database of over 35,000 images of Stamps, Stamp Books, Miniature sheets, First Day Covers, PHQ cards, Presentation Packs, and more.
All issues are included from the 1840 Penny Black up to one year after your date of purchase -
more about what's included
After finding an item that you have in your collection or wish to purchase, you can add it to a collection or wants list.
Once items have been added to your collection they coloured in blue. Thus helping you keep track of what you have already recorded.
As you can see from the images below you can select from many options to find what you are looking for from our extensive database.
With the British Stamp Organiser 7 you get can access to the very latest stamp issues by selecting 'Check for browse updates' from the Menu.
Below are examples of searches that you can do from the Browse Tab.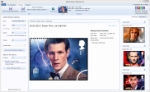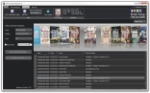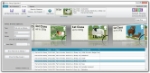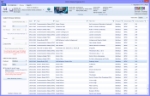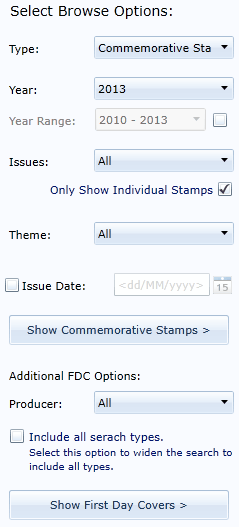 The Select Browse Options Pane
---
Reports Tab
Prepare reports, for say, insurance purposes, or to create a wish list in advance of attending a stamp shop or stamp fair.

Lists can be printed or emailed.

The reports can be exported to PDF or Word.

Alternatively you can export your entire collection (or part) to a Spread sheet like Excel and rearrange the data however you like.
---
Backup & Restore
Backup your collection for peace of mind.
People never expect their collection to be stolen, or experience a major fire or flood at home - this only happens to others!

Each time you close British Stamp Organiser the program backs up your work.
However, you must NOT rely on this backup. It is your responsibility to perform regular backups of your work. These backups should be stored on an external device such as a memory stick etc.

British Stamp Organiser is the perfect solution to help substantiate an insurance claim.

To create a backup of your British Stamp Organiser select the Menu and then select 'Create Backup' and follow the instructions.

Should you need to restore your British Stamp Organiser select the Menu and then select 'Restore Backup' and follow the instructions.

NB You cannot open the backup file by double clicking it from within windows or MAC OSX. The only way to use this file is for restoring your collection from a backup. To do this, select it from the Restore Backup window.
---
Minimum System Requirements:
Windows XP SP3, Windows Vista, Windows 7, Windows 8, Windows 10, Mac OSX (Intel)
Screen resolution of at least 1024 x 600
32bit or 64bit

---
Special thanks to:
Royal Mail for allowing the use of all the images of stamps and related products;
Matt Peters without whose programming skills this product would not exist;
Graham Howard for providing images of Business Customised Sheets;
Melvyn Philpott for providing images of the early Postage Dues and Stamp Books;
Ron Negus for proofing the product specifications of the original Stamp Organiser.

Thanks also to all those collectors who at various stages agreed to beta test Stamp Organiser, or have provided scans of items for inclusion into the program.

A final thanks goes to all those who have taken the time to make suggestions for improvements – many of which we have incorporated into later versions of the program.