Christmas 2017 Stamps
These Royal Mail stamps were affixed to specially designed envelopes and postmarked on the first day that the stamps were issued.
07.11.2017 | Madonna and Child, Postmarked at Birmingham
BUY NOW   €48.80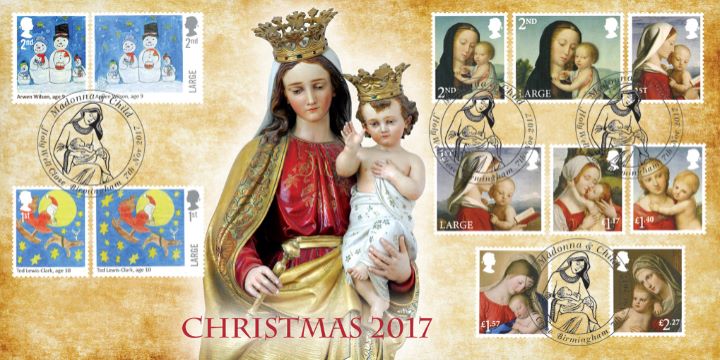 Click on image for larger view
Stamp Details:

2nd Large Madonna and Child
1st Madonna and Child
1st Large Madonna and Child
£1.17 Madonna and Child
£1.40 Madonna and Child
£1.57 Madonna and Child
£2.27 Madonna and Child
2nd Snowmen
2nd Large Snowmen
1st Santa on sleigh
1st Large Santa on sleigh


Limited Edition:

50 copies Worldwide.

Notes:

Please note that these covers are more expensive than the usual new issues because Royal Mail has issued 12 stamps (not the normal 8) These covers are hand made from the finest quality linen textured paper.

Reference Images:
Commemorative Stamp
Presentation Pack (548)
PHQCards (436)
Postmark illustrations

Why not take a look at other items on a similar theme?